Information and Stories about our Membership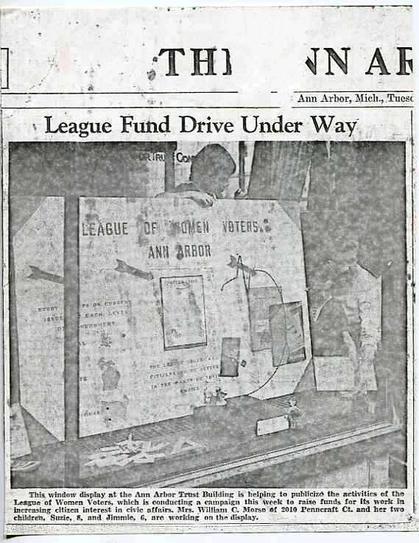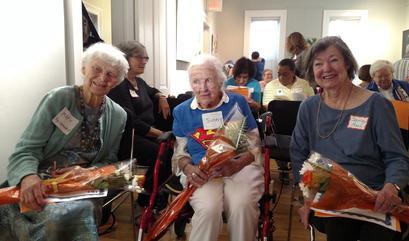 Sunny Morse (Center)  receives lifetime achievement award in Ann Arbor, Michigan, May 2017--League of Women Voters.  What an honor!

Please enjoy this summary of a conversation with Sunny Morse, formerly of Erie, Pennsylvania, who influenced my decision to join the Erie League of Women Voters.  Sunny is a centurion, she says, "working on her second hundred years"!  She currently resides outside the town she made home after leaving Erie, Ann Arbor, Michigan.  Maybe you will find yourself wanting to participate, as well.  We would love to have you as a member in the Erie League of Women Voters.

                                                                                                - Lorraine Morse-Dolan, LWVEC

Sunny received her endearing nickname from her father because she always had such a sunny disposition—bringing sunshine to her family, friends and the wider community.  She is truly a delight!  Sunny Morse has lived 100 exceptional years.  Her daughter likens her mother to "several of the thousand points of light of citizens who energetically give back to their communities."  Sunny joined the Ann Arbor League of Women Voters in 1951.  As a young mother and over her lifetime, she has been active in the Michigan league of Women Voters, tutoring in the local public schools, auditing university classes, and teaching senior exercise.

Never one to be idle, Sunny is a lifelong learner, auditing university classes over the years most often related to work as a League volunteer; she has studied important subjects such as juvenile justice, women's issues with regard to law, as well as, attending a wide variety of continuing education classes and informational  lectures.

As with most of us, someone significant in our lives introduces us to great opportunities, like working to motivate, educate and support our citizens in their civic responsibility of voting.  How often do you hear, "I just don't know enough about the individual running to responsibly vote."  We need every eligible individual to participate in our country's election process—in municipal elections and presidential elections.  The League of Women Voters helps you to "know" the candidates and be informed on the issues.  So, Sunny was that person for me. who urged me to volunteer for this organization, which operates on a local, state and national level across our great country.

When Sunny's youngest, went off to nursery school, a good friend urged her to join.  She went to a meeting and was very impressed with what the women knew.  The presenters knew the League and knew the concerns of the American people.  You see the League identifies current, voter decided issues and studies them in a non-partisan fashion.  The organization researches, interfaces with elected officials and presents information to the public.  Elected officials are made aware of what is important to the people, their constituents and asked for their support of League recommendations.

Sunny offers that there are always a couple of subjects the members, in their entirety, choose to study in detail.  She realized how little she knew and how much she wanted to learn, and most importantly, how much she wanted to make a difference in her community.  Mrs. Morse joined the League of Women Voters when she was thirty-five and has been a life time member—sixty five years to date.

Remarkably, the year Sunny joined, she became the Membership Chair.  Soon after, in the role of Organizational Vice President, Sunny  was on the Michigan State Board for at least six years helping other leagues get started. Nothing like jumping in with both feet!  This dedicated woman traveled all over the lower and upper peninsula of the state of Michigan in this endeavor.

Part of the Membership Chair's job was to encourage people who would make good role models to join and then get them to meetings to plan, discuss and execute ideas!  Sunny trained with seasoned executive members to understand her purpose and worked tirelessly and energetically to get the job done.  With her "sunny" personality, an excellent quality for the Membership Chair, she attracted people to follow her lead. 

When the Ann Arbor league was studying the juvenile justice system, she observed court proceedings and did course work in relevant areas.  Ann Arbor, being the home of the University of Michigan, offered a wealth of educational possibilities.  She remembers that the judge, whose court room she visited, was very cooperative and wanted very much to support the community's interest in the juvenile court.

The Michigan league was an extreme proponent in having a Constitutional Convention in the early 1950"s.  Sunny was very active in having the new constitution on the ballot and then getting it passed, going door to door acquiring signatures. So often reaching the public requires this individual attention and outreach, a personal touch.  She feels one of the greatest achievements of the League in her state was the Michigan Constitutional Convention.  It was the biggest and most intense project she was involved in as a league member. Credit is extended to other groups who were also involved and worked in cooperation with the league. (The newspaper clipping, pictured with this article, is from the Constitutional Convention campaign.) Although hard to see, it pictures her and her children putting together a window display in a local business.

Being a University town, the Ann Arbor league worked to get students involved.  It was a very difficult task.  Millennial's are such busy people, but so important in the process of political action.  Sunny recalls they did have some students, but suspects the numbers could have been greater.  It is hopeful that young people reading this will reach out to their local leagues and become a voice heard.  Sunny also remembers that many professors and professor's spouses were involved. Men were definitely included! Men are absolutely welcomed and encouraged to be members of the League of Women Voters….don't let the name fool you! 

Sunny has lived 100 exceptional years.  With a sharp mind and memory, my aunt, whom I love and admire, continues to be an influence on those who love and care for her. 

A special note from this League of Women Voter's representative –"A supportive husband is very helpful in this work!"

For me, I am so honored and touched when Sunny tells me," I am grateful, Lori, that you are interested and involved in your league.  It means a lot to me."  
UPDATE: Sunny was 103 years old on Mothers' Day 2019. She was interviewed in Ann Arbor, Michigan for the 100 year Anniversary of "Votes for Women" 2020.
UPDATE 10/29/2019 :The League lost Sunny just a few months shy of the 100 year centennial. Her impact will continue to be felt through the work she accomplished and the love people felt for her.