"Her Voice, Her Vote" public art mural
Artists:  Kathy Johnson, Christina Martin, Mary Elizabeth Meier, Jennifer Peters, Suzanne Proulx, Barbara Wegner
Project Managers:  Emily Fetcko, Erie Downtown Partnership, Lorraine Morse-Dolan, LWV Erie County Chapter
Location:  7th and State Streets, just off the city of Erie's public square
Signage: FastSigns of Erie, Naomi Stutzman, Proprietor
Sponsors:  ECGRA, Erie County Government, Erie Community Foundation, Housing Authority of the City of Erie, the Jefferson Educational Society
Message:  Remember, Learn, Vote and continue to advocate for a more perfect democracy!
******************************************************************************************
LWV/Erie County Suffrage Centennial Erie Cemetery Self Guided Walk
(*Maps are available in the cemetery office, but please return them after your tour to be recycled and used by another visitor.  Thank you!)
The grave markers for the walking tour will be removed for the season on October 31, 2020. The suffrage tour brochure will remain available in the Erie Cemetery Vestibule throughout the year. Makers will be put back out in May, in time for Mothers' Day.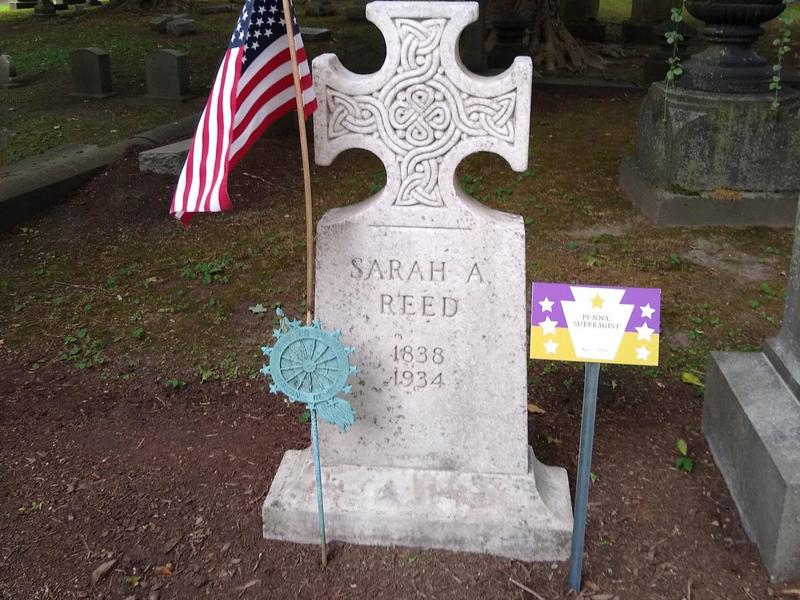 Click the link below for a printable version of the map/brochure of the LWV/Erie County Suffrage Centennial Erie Cemetery Self Guided Walk.  This event has been made available through the generosity of a friend of the League, an individual who gave her time for extensive research and planning to make this citizen education project possible. As you remember these incredible Erie County women of our past, honor them by voting in every election.  Perhaps this walk through history will lead you to do some historical research of your own to learn about this progressive era of American history, when women worked so tirelessly to secure this equal right.  
                                                 2020 Suffrage Centennial Cemetery Walk
*****************************************************************
 "Every Woman" 202o Centennial Art Exhibit, Arlore Studio
 Every woman is different, but we are inheritantly the same.  Local Erie County female artists examine their inner most feelings on the subject of women's suffrage, democracy, the vote and their place in society through their design in this mannequin art project. Mannequins and mannequin busts were used. The art mediums are diverse, as are the artists' syles and the artists themselves.  You are invited to the opening day exhibit on Friday. August 28th, 2020, 11 AM until 9 PM. The opportunity to register to vote will be offered. Lena Logvina is the proprietor of Artlore Studio and the manager of this unique suffrage centennial art project. A live stream of a Q/A session with artist Lena Logvina will be offered.  Please check the Artlore website for details.  https://www.artlorestudio.com/
 "Every Woman" is a collaborative project of Artlore and the League of Women Voters Erie County Chapter supported in part by the Pennsylvania Council on the Arts, a state agency funded by the Commonwealth of Pennsylvania and the National Endowment for the Arts, a federal agency.
Erie County State Legislators have been invited to attend. 
There are always delightful surprises awaiting Lena's guests at Artlore, and you can be sure that there will be music!
ALL COVID-19 PA/ERIE COUNTY HEALTH DIRECTIVES APPLY.  MASKS MUST BE WORN AND SOCIAL DISTANCING MUST BE PRACTICED.  A LIMIT OF 25 PERSONS MAY BE INSIDE THE STUDIO AT ANY GIVEN TIME.  
*Every Woman" was highlighted in the LWV/Erie County WQLN PBS television special, Trailblazers, Women's Fight for the Vote produced to replace the originally scheduled  in-person event that was to have been offered on the campus of the Hagen History Center.  The program is a wealth of information on the Pennsylvania suffrage movement and involvement of Arican American women in the American women's suffrage movement. It includes a brief film documentary, the complete story of the Justice Bell, (the Justice Bell art replica in residence at the Hagen History Center through September 10th, sponsored by Highmark Blue Cross, Blue Shield) produced by the Justice Bell Foundation, " Finding Justice:  The Untold Story of Women's Fight for the Vote". The link for this historical television special offered to you by the League of Women Voters Erie County Chapter is here; watch, learn and remember--then make sure you are registered and apply for your mail-n ballot today and vote early.  You may also vote on November 3rd at your neighborhood polling location.  
Unique URL to register/LWVEC Pa Housing Alliance Voter Grant Registration link for the November 3rd Election. Go to Vote411.org to access election information (Erie County debates) and candidate information.  The last day to register to vote is October 19th. 
Apply for your mail in ballot:  VotesPA.com or click on this League to print application: 
https://www.votespa.com/Register-to-Vote/Documents/PADOS_mailInapplication.pdf