The best way to get the most out of your membership in the League of Women Voters Metro Phoenix is to get involved.
Find your community

Community teams offer daytime and evening meetings throughout the Valley. On your community team, you'll meet and work with other members to build effective networks, learn about issues and plan activities to help educate and empower voters. 
Phoenix Weekend Team
Phoenix Weekend Team gathers the the first weekend of the month on Saturday or Sunday from 10:00 a.m - 12:00 p.m. (noon)  Learn more…
Scottsdale Team
Scottsdale Team meets the second week of each month, either on a Tuesday evening from 5:30-8:30 p.m. or Thursday morning from 9:30 a.m. - 11:30 a.m.  Learn More...
East Valley Day Team 
The East Valley Day team meets at 11:30 a.m. the third Thursday of the month near Southern and Rural in Tempe. Learn more...
East Valley Evening Team 
For information, please email Team Leader gitelleseer [at] gmail.com (Gitelle Seer) 
Find your focus
Bring your curiosity, talent, expertise and passion to one (or more!) of our specialized focus teams. 
Advocacy/Issues
Are you ready to take action to make a difference? Find out how…
Communications & Social Media
Unleash your creativity, graphics skills, and word prowess with the LWVMP Communications team! Get the scoop… 
Public Relations & Development
Email: Infolwvmp [at] gmail.com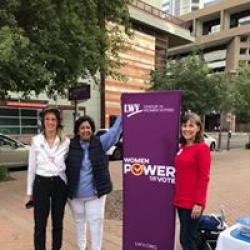 Voter Services
The team registers voters and provides election awareness, issues education and polling place information. Find out how…
Forums and Debates
The League hosts high-profile public forums throughout the year to educate the community about the pillars of our democracy and to empower attendees to make democracy work. Find out how you can be involved.
Legislative Analysis Team 
This is the go-to team for the inside view of what's happening at the state legislature. If you enjoy research and crave the challenge of translating legislative terms into language that everyone can understand, keep reading.
Finance Team
If finance and data are your passion, these are your people! Learn more…